Central Library
Total Area : 730.88 sq.mt.
Working Hours: 8.30am to 12.00 midnight
Sunday & Holidays: Open during exam period
Location: Building 'A', First Floor
Contact: 0253-2571439 Ext:124
About Us:
The Central Library has excellent infrastructure and participates actively in the educational mission of the college through the collection and dissemination of information to meet the curricular and vocational needs of the students, faculty, and staff. Central Library system supports the teaching-learning and research activities conducted in the Institution.
It is well equipped with books of all discipline having more than 13160Titles and 39905text and reference books. It is also subscribed with international renowned databases like IEEE-ASPP, ASCE, ASME,J-Gate, DELNET, Knimbus- Digital Library E-Platform
Library Automation:
All its operations are computerized using ERP software and provide access to the collection through OPAC. Library follows an open access system that allows users direct access to the library collection. Library implemented barcode technology for circulation. Knimbus e-Library platform for the repository and digital library is also available.
Vision:
To be multidisciplinary, technologically enabled and state of art research oriented resource of information centre making users think innovatively, educationally and professionally sound.
Mission:
We are committed to provide comprehensive access of information resources for teaching, learning and research activities of the institute through modern technology thereby contributing to the development of society.
Digital Library link: http://10.65.0.25:75/
Book Recommendation Form: Click Here
Central Library Feedback Form: Click Here
Institutional Digital Repository Link : Click Here
Institutional Digital Repository QR Code : Click Here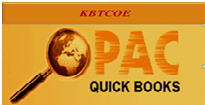 Subscribed E-Resources: